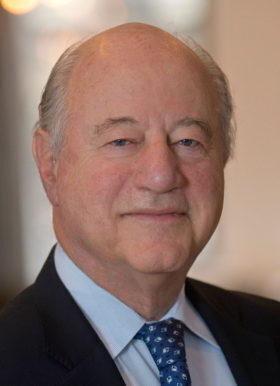 Simons Center for the Social Brain
SCSB Colloquium Series: Synapses and Me
Location
46-3002,46-3002, Singleton Auditorium
Description

Date: Wednesday, October 4, 2023

Location: 46-3002 (Singleton Auditorium) and YouTube Stream (https://youtube.com/live/lCJGajRrG34)

Speaker: Gerald Fischbach, MD

Affiliation: Distinguished Scientist and Fellow, Simons Foundation

Host: Dr. Mriganka Sur

 

Talk title: Synapses and Me

Abstract: Throughout my 60 years in biomedical science, I have been focused on chemical synapses in the brain and peripheral nervous system. I began by studying the vertebrate neuromuscular junction. Electrophysiology led to biochemical and genetic analyses focused on how "trophic" factors released from motor nerve terminals regulate the number and distribution of acetylcholine receptors in the postsynaptic muscle membrane. As my lab grew and as I took on more administrative responsibilities, including Chairmanships at Washington University and at Harvard Medical School, Directorship of NINDS and finally Chief Scientist at the Simons Foundation Autism Research Initiative my interests broadened. My research moved up the neural axis from the  spinal cord to the midbrain and the cerebral cortex, and my interests grew as well. Molecular, biology systems science and computational approaches are opening new ways of thinking about synapses and behavior. It is simply not enough to say that autism is a "synaptopathy".

Bio:

Gerald Fischbach joined the Simons Foundation in 2006 to oversee the Simons Foundation Autism Research Initiative (SFARI). He then became the foundation's first chief scientist and fellow and currently holds the title of Distinguished Scientist and Fellow. He is formerly the dean of the Faculties of Health Sciences at Columbia University, and director of the National Institute of Neurological Disorders and Stroke at the National Institutes of Health from 1998-2001, Fischbach received his M.D. degree in 1965 from Cornell University Medical School and interned at the University of Washington Hospital in Seattle. He began his research career at the National Institutes of Health, serving from 1966-1973. He subsequently served on the faculty of Harvard Medical School, first as associate professor of pharmacology from 1973-1978 and then as professor until 1981. From 1981-1990, Fischbach was the Edison professor of neurobiology and head of the Department of Anatomy and Neurobiology at Washington University School of Medicine. In 1990, he returned to Harvard Medical School where he was the Nathan Marsh Pusey professor of neurobiology and chairman of the neurobiology departments of Harvard Medical School and Massachusetts General Hospital until 1998.

Throughout his career, Fischbach has studied the formation and maintenance of synapses, the contacts between nerve cells and their targets through which information is transferred in the nervous system. He pioneered the use of nerve cell cultures to study the electrophysiology, morphology and biochemistry of developing nerve-muscle and inter-neuronal synapses. His current research is focused on roles that neurotrophic factors play in determination of neural precursor fate, synapse formation and neuronal survival.

Fischbach is a past president of the Society of Neuroscience and serves on several medical and scientific advisory boards. He is a member of the National Academy of Sciences, the American Academy of Arts and Sciences and the Institute of Medicine. He is a fellow of the American Association for the Advancement of Science and a former non-resident fellow of the Salk Institute.