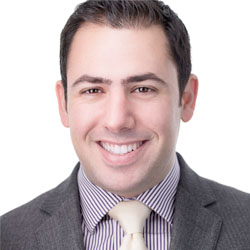 Research Affiliate
Tufts University School of Medicine
About

As of December 1, 2022, Prof. Halassa is no longer at MIT; he is an Associate Professor of Neuroscience at the Tufts University School of Medicine.

Michael Halassa aims to understand the neural basis of cognitive control and flexibility, particularly as it relates to attention and decision making. To study these questions, he has developed behavioral models of cognitive function in mice, allowing him to probe the underlying neural circuits and computations using parametric behavior, electrophysiological recordings, and causal manipulations. His major current focus is understanding the function of the thalamus, traditionally considered a relay station for sending sensory information to the cortex. Halassa is also a board-certified psychiatrist with fellowship training in psychotic disorders. Motivated by this clinical training, Halassa studies how the brain generates hypotheses about the world and how these hypotheses may be corrupted by disease processes such as schizophrenia. By developing perceptual tasks in animals that capture the underlying basic cognitive operations, Halassa aims to understand how the healthy brain generates such hypotheses and why the diseased brain has difficulty changing or revising them.

Halassa received an MD at the University of Jordan in 2004 and a PhD in neuroscience from the University of Pennsylvania in 2009. Following simultaneous appointments as a postdoctoral fellow in the laboratory of Matthew Wilson at MIT and as a resident in psychiatry at Massachusetts General Hospital, he joined the New York University faculty in 2014. Halassa joins the Department of Brain and Cognitive Sciences as an assistant professor and the McGovern Institute for Brain Research as an associate investigator. In 2019 He was promoted to associate professor and named to the three-year Class of 1958 Career Development Professorship.
Research

Our work focuses on understanding the role of the thalamus in cognition. While the knowledge about what the cortex does in cognitive processes like attention and executive control has expanded tremendously over the last several decades,our understanding of what the thalamus does is quite limited. The classical view of the thalamus is that of a relay to and between cortical regions, but we think that such a view is derived from the function of a few specialized thalamic circuits that participate in sensory processing. Plus, most of the thalamus in my head and yours is not even connected to the senses. Our work suggests that the thalamus is the functional backbone upon which distributed cortical computations are coordinated, sustained and switched. We are excited to more fully delineate the contribution of the thalamus to cognitive function, and to leverage its circuitry for ameliorating cognitive dysfunction in neuropsychiatric disorders.
Teaching

9.017 Neural Mechanisms of Cognitive Computations (Systems Neuroscience II)