Pilot, engineer, neuroscientist, bridge-builder
by
Annie Dunlap | Department of Aeronautics and Astronautics
Image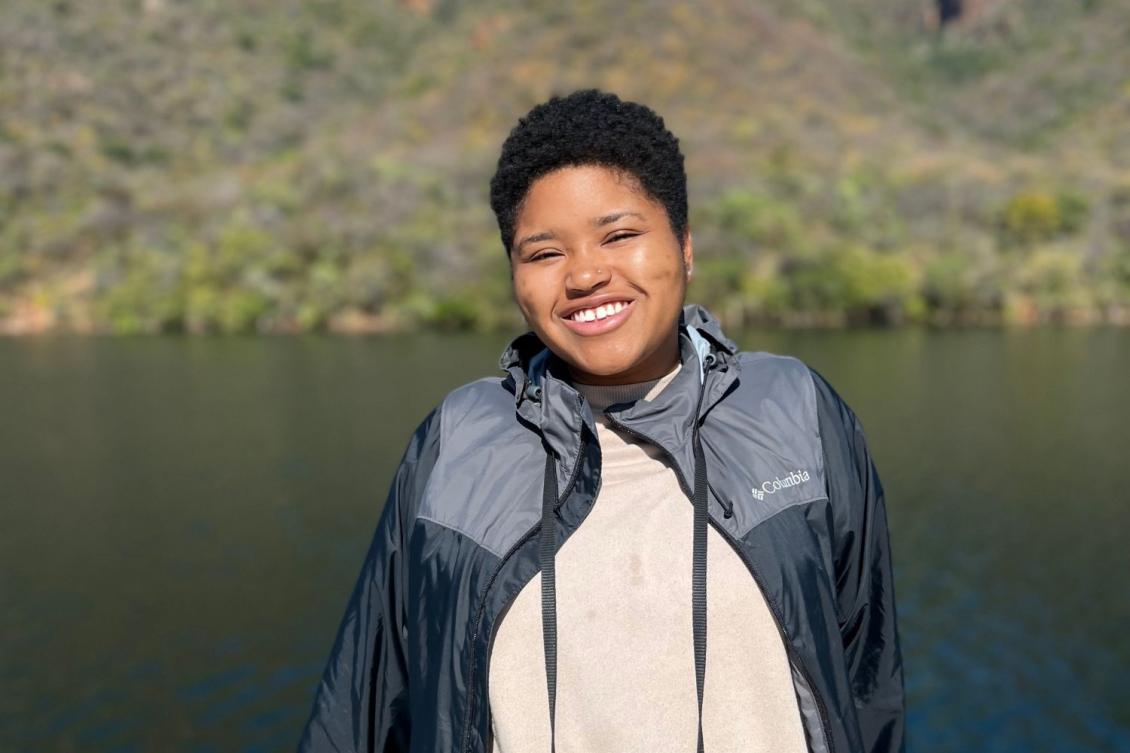 Elissa Gibson '22 while on a safari in Kruger National Park.
At first glance, aerospace engineering and brain and cognitive sciences may seem like an unlikely match for a double-major. But for Elissa Gibson '22, the common thread connecting the two inherently different disciplines is clear: the human factor, by way of aviation.
A lifelong love of airplanes helped Gibson discover the MIT Introduction to Technology, Engineering, and Science, or MITES (formerly known as the Office of Engineering Outreach Programs), which helped carve a direct pathway to MIT. There, the Institute's culture of infinite possibilities made it possible to pursue a unique double-major, obtain her pilot's license in the span of a single summer break, discover her passion for community-building and mentoring Black students, and shadow surgeons in a South African hospital as part of MISTI-Africa post-graduation.
"I have the mindset of an engineer, and through my experience as a pilot, I came to understand the body as a system, which is how I became interested in how our bodies are affected by flight, which led me to declare a double major in Course 16 and Course 9," says Gibson. "I found that I am passionate about figuring out how I can use all my interests for something good because it's so interesting to apply our technical skills in ways that can help people. For me, it was more than just connecting the dots; it was forming a constellation."
Path to MIT
As a young girl in Fayetteville, Georgia, Gibson used to watch the planes on their way to and from Atlanta. She became involved with a summer program held by the local chapter of the Organization of Black Aerospace Professionals, which Gibson credits for showing her what a career in aerospace could look like for her, and she delved further into exploring opportunities for exploring aviation, which is how she found the MIT Online Science, Technology and Engineering Community, hosted by MITES.
"This program gave me the opportunity to study astrophysics and science writing, which was how I was able to narrow down my interest to aviation," says Gibson. "It was through that program that I realized that MIT would give me room to explore all of these things. I had such a great experience with this program that I was inspired to apply to MIT."
When Gibson matriculated to MIT, she knew immediately that she would pursue aerospace engineering, and declared Course 16 (aeronautics and astronautics, or AeroAstro) at the end of her first year. Her acceptance to the Tuskegee Next Fellowship, which she completed the summer before her sophomore year, however, instilled a brand-new interest in Gibson. While training for her private pilot's license as part of the fellowship, Gibson noticed that she was more interested in how her body reacted to being in flight rather than how the plane itself functioned.
"As a pilot, I came to understand first-hand the importance of human-centered design," says Gibson. "I became more aware of how my body felt as I maneuvered the aircraft. The plane becomes an extension of myself as I fly."
When she returned to MIT, Gibson began taking brain and cognitive sciences with the intention to declare a minor in Course 9 (brain and cognitive sciences). By Gibson's senior year, she had written her own Course 16 concentration, human spaceflight, and decided to pursue a second major in Course 9 on the pre-med track after researching in the Institute of Medical Engineering and Sciences through the MIT Undergraduate Research Opportunities Program (UROP). Through developing a bio device that would stimulate the hydrocephalus, Gibson realized that many of the concepts she learned in AeroAstro's fluid dynamics class, among others, could also be applied to the human body.
"I think engineers make great doctors," Gibson says, "because through engineering, we're taught how to problem-solve, and to approach a problem as a system, and the body is a system as well."
Gibson was heavily involved in MIT's Black student groups and served on the executive boards of both the Black Women's Alliance (BWA) and My Sister's Keeper. "Having a sense of community can make a huge difference in your experience here," she notes, "and I think it's extremely important to make people — especially Black women — feel comfortable in spaces like MIT." 
Just before Commencement, Gibson received the individual Bridge Builder Award at the 2022 MIT Awards Convocation. The award recognizes "a strong commitment to and passion for diversity education and cultural celebration ... demonstrating noteworthy collaboration and partnership between student organizations, living groups, dorms, teams, individual students, nonprofit organizations, and/or governmental groups to raise awareness, share knowledge, provide solutions, and show commitment to social justice and a more inclusive MIT."
Groups like the BWA and My Sister's Keeper helped Gibson form her community at MIT and empowered her to pursue another passion — mentoring younger Black women. "People who lead the way can light the torch for others," Gibson states, "and when you light the torch for someone else it doesn't take away from your flame. It's okay to bring people with you as you pull up your seat to the table. You can grow together."
Gibson's involvement with these communities aligned with her interests in equity, social justice, and technology, which formed an important thread connecting her research experiences. Gibson participated in another UROP where she was placed in the Space Enabled Group in the MIT Media Lab, where she worked on design project that sought to implement anti-racist ideals into different technological and social systems, such as facial and voice recognition software. Following the completion of the project, Gibson worked with her supervisor, Katlyn Turner, on the Invisible Variables project to evaluate how Covid-19 and related policies in the Greater Boston area have affected people of different race, gender, sexuality, and socioeconomic status disproportionately.
Postgraduate adventures and beyond
After graduating, Gibson participated in MISTI-Africa, working in the Global Surgery Department at the Groote Shuur Hospital in Cape Town, South Africa. Inspired by her UROP experience in the MIT Media Lab, she was drawn to South Africa and the hospital specifically not only because of its multidisciplinary approach to medicine and but also its focus on developing a more equitable medical field.
According to Gibson, the Global Surgery Department focused on how we can make surgical operations and everything surrounding surgeries more accessible to people, and affordable for people. Day-to-day, she worked to determine where the gaps in patient care were by evaluating if nurses and doctors were properly accounting for vital signs, and if steps were taken if they were abnormal. She found her systems engineering classes in aeronautics and astronautics (16.83 and 16.831) prepared her well for this challenge.
"We're designing these missions to go to Mars, but ultimately, it's compiled up of a bunch of different systems, and I was able to use similar thinking and framework in a similar organization of analysis to try to determine … where the gaps are in health-care systems in lower- and middle-income countries."
Outside of the hospital, Gibson enjoyed building community with her co-workers — one of her favorite parts of her MISTI experience. "When you're living there for like three to four months, you start to become a little bit more accustomed to the culture," Gibson notes, "we developed a rapport with our co-workers, so they would invite us into their homes for home-cooked meals."
The length of Gibson's MISTI program also allowed her to travel around the country and gain new perspectives. She toured rural hospitals in the Eastern Cape for a week, visited prisons where Nelson Mandela was incarcerated, and hiked all three major peaks of Table Mountain.
Her love of hiking followed Gibson on her next adventure to Washington, where she is now working as a system safety engineer for Boeing. Consistent with her undergraduate research at MIT and during MISTI-Africa, Gibson is focused on making systems work for people. "One thing that drew me to the role is that I'll have the opportunity to make a direct impact on safety for people during their everyday lives."
"I'm excited," Gibson remarks when asked about her future, "I'm about to experience a lot of changes … I flew into this, and I will continue flying."