Congratulations BCS Award Recipients!
by
Department of Brain and Cognitive Sciences
Image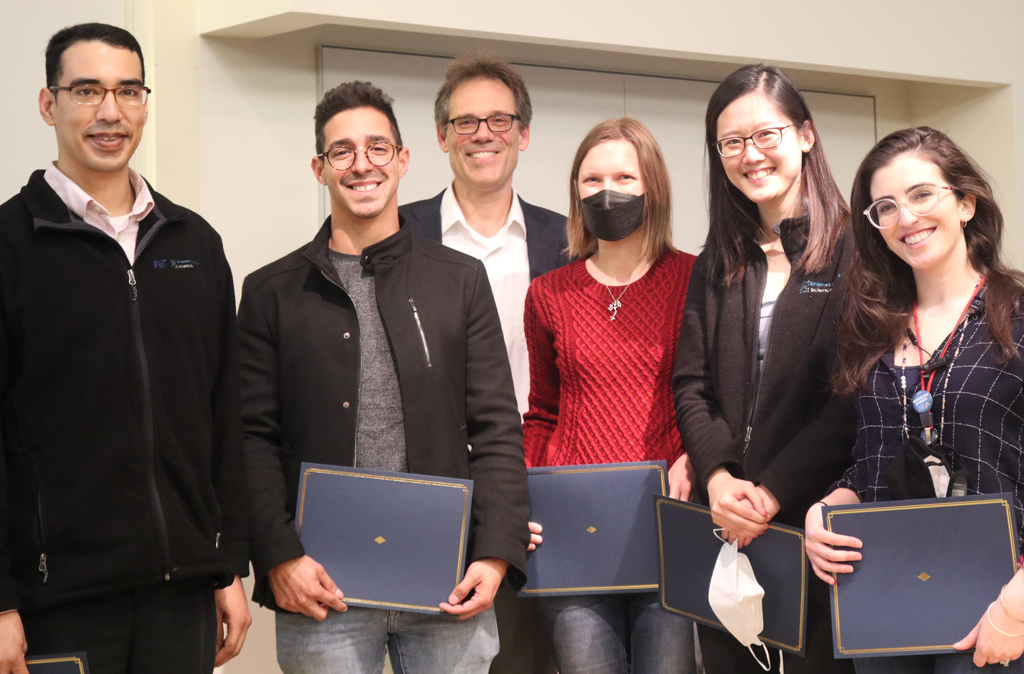 Some recipients of the inaugural BCS DEIJ Impact Awards pose with BCS Department Head Michale Fee during the awards ceremony.
The Department of Brain and Cognitive Sciences is pleased and honored to announce the 2022 awards for faculty, graduate students, and undergraduates in teaching, mentorship, DEIJ, academics, and research. We congratulate and thank these individuals who have contributed exceptionally to the academic and intellectual life of our department.
Faculty Awards 
BCS Award for Excellence in Undergraduate Advising: Nancy Kanwisher
BCS Award for Excellence in Undergraduate Teaching: Fan Wang
BCS Award for Excellence in Graduate Teaching: Rebecca Saxe
BCS Award for Excellence in Graduate Mentoring: Fan Wang
BCS Postdoc Award to an Outstanding Postdoctoral Mentor: Ev Fedorenko
BCS DEIJ Impact Awards
New this year, the BCS Diversity, Equity, Inclusion and Justice Impact Awards are given to individuals exhibiting exemplary leadership in advancing diversity, equity and inclusion in Building 46. The inaugural recipients of this award are:
Cecilia Pelligrini
Francisco Garcia
Cathy Wong
Junyi Chu
Annie Cardinaux
Danielle Cosio
Michael Happ
Lupe Cruz
Hector De Jesus-Cortes
Anna Ivanova
Omar Rutledge 
Teaching Assistant Awards
Angus MacDonald Award for Excellence in Undergraduate Teaching:
Leyla Akay
Victoria Beja-Glasser
Gabi Drummond
Max Heinrich
Kristine Hocker
Di Kang
Maddie Leet
Raul Mojica-Alburs
Yizhi Wang
Nick Watters
Walle Nauta Award for Excellence in Graduate Teaching:
Jarrod Hicks
Aida Piccato
Juan Santoyo
Charlie Shvartsman
Sadie Zacharek
Walle Nauta Award for Continuing Dedication to Teaching by a Graduate Student:
Undergraduate Academic Awards (4.9 GPA or higher)
Juniors:
Reese Alley
Ronald Alvarez
Elizabeth Carbonell
Curtis Chen
Alexis Cho
Edmund Corcoran
Nicole Dundas
Sean Elliot
Kathleen Esfahany
Marie Diane Fadel
Jiahai Feng
Teresa Gao
Jessica Han
Nelson Hidalgo Julia
Stephanie Howe
Raphi Kang
Sean Knight
Eli Kramer
Shelby Laitipaya
Elizabeth Lee
Darren Lim
Gabrielle Liu
Katie Lu
Annika Magaro
Catherine Mei
Ilan Mitnikov
Thomas Ngo
Anita Podrug
McKinley Polen
Shreyaa Raghavan
Shruti Ravikumar
Shaunticlair Ruiz
Bezawit Suhile
Alessandre Santos Sagustume
Akila Saravanan
Eren Shin
Miles Silva
David Ulloa
Alyssa Unell
Nico van Wijk
Kayla Villa
Brigette Wang
Mingye Wang
Liane Xu
Seniors:
Sylvia Cho
Theodor Cucu
Sophia Diggs-Galligan
Benjamin Dwyer
Michelle He
Kristine Hocker
Emily Huang
Bhav Jain
Dana McCormack
Keith Murray
Eileen Pan
Hayley Popiel
Luyao Tian
Olivia Valle
Undergraduate Research Awards
Alex Abate
Caroline Bao 
Cesar Duran
Crista Falk
Michelle Hung
Dana McCormack
Shreya Pandit
Simon Radhakrishnan
Somaia Saba
Keith Skaggs
Grace Song
Yizhi Wang
 
Invited to Xi Chapter of Phi Beta Kappa
Maggie Chen
Michelle He
Rucha Kelkar
 
Congratulations once again to all award recipients!