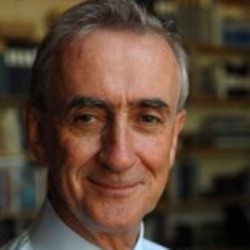 Prof Mech Eng; Prof Brain & Cog Sc; Dir Newman Lab
Mechanical Engineering; Brain & Cognitive Sciences
Director
Eric P. and Evelyn E. Newman Laboratory for Biomechanics and Human Rehabilitation
Faculty Appointment
Joint
About

Neville Hogan is Professor of Mechanical Engineering, Professor of Brain and Cognitive Sciences, and Director of the Newman Laboratory for Biomechanics and Human Rehabilitation at the Massachusetts Institute of Technology. He is a co-founder of Interactive Motion Technologies, Inc., and a board member of Advanced Mechanical Technologies, Inc.

Born in Dublin, Ireland, he earned a Dip. Eng. (with distinction) from Dublin College of Technology and M.S., M.E. and Ph.D. degrees from MIT. Following industrial experience in engineering design, he joined MIT's School of Engineering faculty in 1979 and has served as Head and Associate Head of the Mechanical Engineering department's System Dynamics and Control division. Awards include an Honorary Doctorate from the Delft University of Technology; the Silver Medal of the Royal Academy of Medicine in Ireland; and an Honorary Doctorate from the Dublin Institute of Technology.

Professor Hogan's research is broad and multi-disciplinary, extending from biology to engineering—it has made significant contributions to motor neuroscience, rehabilitation engineering and robotics—but its focus converges on an emerging class of machines designed to cooperate physically with humans. Recent work pioneered the creation of robots sufficiently gentle to provide physiotherapy to frail and elderly patients recovering from neurological injury such as stroke, a novel therapy that has already proven its clinical significance.
Research

Interactive Robots for Neuro-Rehabilitation

My research in the Newman Laboratory emphasizes forceful interaction between the motor control systems of humans and machines (i.e., robots). Recent work pioneered therapeutic neurobotics to promote recovery after brain injury. It provides durable benefits even for chronic-phase stroke survivors, suggesting that with appropriate stimulation neural plasticity may be harnessed even long after injury. Devices to address balance, gait and abnormal lower-limb motor synergies, both in animals and humans, are in development or beginning trials.
Publications

Charles SK, Hogan N. The curvature and variability of wrist and arm movements. Exp Brain Res. 2010 Apr 11. [Epub ahead of print]

Hogan N, Sternad D. Sensitivity of smoothness measures to movement duration,amplitude, and arrests. J Mot Behav. 2009 Nov;41(6):529-34.

Volpe BT, Huerta PT, Zipse JL, Rykman A, Edwards D, Dipietro L, Hogan N, Krebs HI. Robotic devices as therapeutic and diagnostic tools for stroke recovery. Arch Neurol. 2009 Sep;66(9):1086-90. Review.

Sternad D, Park S-W, Müller H.and Hogan N (2010) Coordinate Dependence of Variability Analysis. PLoS Computational Biology 6(4):e1000751