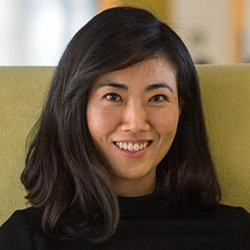 Mark Hyman Jr CD Associate Professor
Brain & Cognitive Sciences
Investigator
Picower Institute for Learning and Memory
Faculty Appointment
Primary
About

Professor Choi is on sabbatical during spring 2023.

Choi received her bachelor's degree from University of California, Berkeley, and her Ph.D. from Caltech, where she studied with David Anderson. She was a postdoctoral research scientist in the laboratory of Richard Axel at Columbia University.
Research

My laboratory studies how sensory stimuli drive behavioral responses and internal states depending on past experience. We focus at the level of neural circuits, using olfaction as a model to address three central problems. First, we are working to anatomically and functionally delineate the circuitry that connects sensory representations to specific behavioral outcomes. Second, we are asking how learning transforms these circuits, and how neuromodulators shape and modify them. Third, we are asking how the brain maintains behavioral plasticity, to allow for context dependent behavioral adaptations in response the same sensory stimulus. In understanding how learning links neutral olfactory stimuli with specificity and flexibility to appropriate behaviors, we hope to elucidate mechanisms fundamental to learning across all sensory modalities.
Teaching

9.12 Experimental Molecular Neurobiology
Publications

Reversing autism-like behaviors in mouse offspring exposed to maternal inflammation

Yim, Y.S., Park, A., Berrios, J., Pascual, L., Soares, N., Kim, J.Y., Kim, S., Kim, H., Waisman, A., Littman, D., Harnett, M.T., Wickersham, I.R., Huh, J.R. *, and Choi, G.B. *

Nature. 2017. In Press.

 

Maternal gut-residing bacteria drive autism-like phenotypes in mouse offspring

Kim, S.D., Kim, H., Yim, Y.S., Ha, S., Atarashi, K., Honda, K., Littman, D.R., Choi, G.B.*, and Huh, J.R.*.

Nature. 2017. In Press.

 

The maternal interleukin-17a pathway in mice promotes autism-like phenotypes in offspring
Gloria B. Choi, Yeong S. Yim, Helen Wong, Sangdoo Kim, Hyunju Kim, Sangwon V. Kim, Charles A. Hoeffer, Dan R. Littman, Jun R. Huh
Science. 2016 Jan 28; pp.DOI: 10.1126/science.aad0314

Oxytocin mediates entrainment of sensory stimuli to social cues of opposing valence
Choe, H.K., Reed, M. , Benavidez, N. , Montgomery, D., Soares, N. , Yim, Y.S., Choi, G.B.
Neuron. 2015 Jul 1;87(1):152-63. doi: 10.1016/j.neuron.2015.06.022.

Driving opposing behaviors with ensembles of piriform neurons
Choi, G.B., Stettler, D., Kallman, B., Shaskar, S., Fleishman, A., and Axel, R.
Cell. 2011 Sep 16;146(6):1004-15. doi: 10.1016/j.cell.2011.07.041.