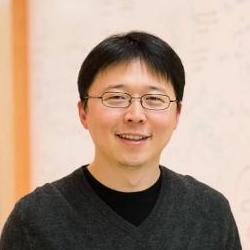 James & Patricia Poitras Professor in Neuroscience
Brain & Cognitive Sciences; Biological Engineering
Investigator
McGovern Institute for Brain Research
Core Member
Broad Institute
Robertson Investigator
New York Stem Cell Foundation
Faculty Appointment
Primary
About

Feng Zhang joined MIT in 2011. He is a core member of the Broad Institute, the W. M. Keck Career Development Professor in Biomedical Engineering, an assistant professor in the MIT department of Brain and Cognitive Sciences, and an Investigator in the McGovern Institute. He obtained a bachelor's degree from Harvard University and a PhD in chemistry and bioengineering from Stanford University. Before joining the MIT faculty he was a junior fellow of the Harvard University Society of Fellows. He is a Searle Scholar, and has received both a Director's Transformative Research Award and a Directors' Pioneer Award from the National Institutes of Health. In 2012 he shared the UNC/Perl Prize for his role in the development of optogenetics.
Research

Controlling the brain's genetic programs

Feng Zhang is designing new molecular tools for manipulating the living brain. As a student, he played a major role in the development of optogenetics, a technology by which the brain's electrical activity can be controlled with light-sensitive proteins. He is now working to extend this molecular engineering approach to other aspects of brain function such as gene expression, and to develop new approaches to understanding and eventually treating brain diseases.

Genome editing with CRISPR-Cas9

Feng Zhang is a leader in the development of the CRISPR-Cas9 system, a genome editing technology that allows scientists to make precise changes to a DNA sequence. This scientific advance is expected to transform many areas of biomedical research and may ultimately form the basis of new treatments for human genetic disease.

Designer proteins

The mammalian brain expresses around 20,000 genes, and a method to regulate their activity with precise specificity would be of great value as a research tool. It could also lead to new therapies for brain disorders, many of which involve abnormal patterns of gene expression. As a junior fellow at Harvard, Zhang developed a new method for constructing customized DNA-binding proteins. These proteins, known as TAL-effectors, can be produced quickly and cheaply using the new method, and can be targeted to any desired DNA sequence. Zhang plans to use TAL effectors to manipulate brain gene expression, using several different approaches. These proteins can be used to introduce changes into the genome of a cell, for example introducing defined mutations for experimental work or repairing genetic mutations as a potential therapy for certain genetic diseases. TAL effectors can also be designed to influence gene expression in other ways, for example activating or blocking the transcription of the targeted genes.

Modeling brain disorders

By applying these and other methods, Zhang hopes to generate new animal models of human disease in order to study their underlying biological mechanisms. He is especially interested in complex disorders, such as psychiatric and neurological diseases, that are caused by multiple genetic and environmental risk factors and which are difficult to model using conventional methods. Zhang's method may also lead to new ways to produce brain stem cells, which could be used as a platform for developing new drugs and as a new source of material for transplantation in many human degenerative diseases.
Teaching

9.12 Experimental molecular neurobiology
9.26J Principles and applications of genetic engineering for biotechnology and neuroscience
Publications

High-throughput functional genomics using CRISPR-Cas9. Shalem O., Sanjana NE., Zhang F. Nat Rev Genet. May;16(5):299-311. (2015).

CRISPR germline engineering-the community speaks. Bosley KS., Botchan M., Bredenoord AL., Carroll D., Charo RA., Charpentier E., Cohen R., Corn J., Doudna J., Feng G., Greely HT., Isasi R., Ji W., Kim JS., Knoppers B., Lanphier E., Li J., Lovell-Badge R., Martin GS., Moreno J., Naldini L., Pera M., Perry AC., Venter JC., Zhang F., Zhou Q. Nat Biotechnol. May 12;33(5):478-86. (2015).

Brains, Genes, and Primates. Belmonte JC., Callaway EM., Churchland P., Caddick SJ., Feng G., Homanics GE., Lee KF., Leopold DA., Miller CT., Mitchell JF., Mitalipov S., Moutri AR., Movshon JA., Okano H, Reynolds JH., Ringach D., Sejnowski TJ., Silva AC., Strick PL., Wu J., Zhang F. Neuron May 6;86(3):617-631. (2015).

In vivo genome editing using Staphylococcus aureus Cas9. Ran FA.*, Cong L.*, Yan WX.*, Scott DA., Gootenberg JS., Kriz AJ., Zetsche B., Shalem O., Wu X., Makarova KS., Koonin EV., Sharp PA., Zhang F. Nature Apr 1. (2015).